Posted By Mike on Sat-20-dec-2008 || Title: Harder! || (0) comments
Work it. Make it. Do it.
Makes us. Harder. Better. Faster. Stronger.
Work it harder, make it better, do it faster, make it stronger.
More than. Ever. Hour. After.
Our. Work is. Never over.
Work it harder, make it better.
Do it faster, makes us stronger.
More than ever hour after hour.
Work is never over.
Work it harder, make it better.
Do it faster, makes us stronger.
More than ever hour after hour.
Work is never over.
Harder. Better. Faster. Stronger.
Work it harder, make it better
Do it faster, makes us stronger
More than ever, hour after our
Work is never over
Work it harder, make it better
Do it faster, makes us stronger
More than ever, hour after our
Work is never over
Work it harder, make it better
Do it faster, makes us stronger
More than ever, hour after our
Work is never over
Work it harder, make it better
Do it faster, makes us stronger
More than ever, hour after our
Work is never over
Work it
Make it
Do it
Makes sense
Harder
Better
Faster
Stronger
Work it harder, make it better
Do it faster, makes us stronger
More than ever, hour after hour
Work it never over
Work it harder, make it better Do it faster, makes us stronger More than ever, hour after hour Work it never over Work it harder, make it better Do it faster, makes us stronger More than ever, hour after hour Work it never over Work it harder, make it better Do it faster, makes us stronger More than ever, hour after hour Work it never over Work it harder, make it better Do it faster, makes us stronger More than ever, hour after hour Work it never over Work it harder, make it better Do it faster, makes us stronger More than ever, hour after hour Work it never over Work it harder, make it better Do it faster, makes us stronger More than ever, hour after hour Work it never over



Posted By Mike on Sun-14-dec-2008 || Title: watch out! || (1 ) comments
So, brave knights, if you do doubt your courage or your strength, come no further, for [it] awaits you all with nasty, big, pointy teeth.

No, I am not talking about The Killer Rabbit of Caerbannog in 'The Holy Grail'. I'm talking about The Maddie of the Gibson Household. Alright, alright, I admit the teeth are not that big. But the two teeth we discovered in Maddie`s mouth Saturday are very sharp!



Posted By Mike on Wed-10-dec-2008 || Title: As promised || (1 ) comments
Next is the letter from August, as promised. (I love this letter).

To me, Thanksgiving mean my Nana comes over and then Mema comes. When they get to my house we play with toys, eat and then eat more. We eat macaroni and cheeseburgers. I am thankful for fries and cheesburgers. I am also thankful for Nana and Poka.

Thanksgiving 2008
I also have some great new photos of the kids. Look for them on Flickr!
Paige as Santa, August as Mrs Claus, and Maddie as Santa's helper.
Plus more! School photos of Aaron, Paige, and August.



Posted By Mike on Wed-10-dec-2008 || Title: As promised || (2 ) comments
As promised, my first written letter from paige.





Posted By Mike on Tue-09-dec-2008 || Title: Happy Birthday! || (2 ) comments

HAPPY
BIRTHDAY
-------------
Dad
and
Aunt Liz!



Posted By Mike on Tue-09-dec-2008 || Title: 25 What abouts || (1 ) comments
1. Wrapping paper or gift bags? I like wrapping paper better, but gift bags are so easy!

2. Real tree or artificial? Both are a pain. A real tree is a bigger pain, so I use Artificial.

3. When do you put up the tree? Late November early December

4. When do you take the tree down? After the first of the year.

5. Do you like eggnog? Most.

6. Favorite gift received as a child? TI-99/4a. Where would I be without that?

7. Hardest person to buy for? Mom

8. Easiest person to buy for? Aaron

9. Do you have a nativity scene? Yes.

10. Mail or email Christmas cards? Mail. E-mail? Is that socially accepted?

11. Worst Christmas gift you ever received? I can not remember.... Must not have been that bad.

12. Favorite Christmas Movie? Can I have three? Scrooged, Mixed Nuts, and of course Rudolph the Red-Nosed Reindeer (TV special)

13. When do you start shopping for Christmas? Usually the beginning of November.

14. Have you ever recycled a Christmas present? I have to say yes.

15. Favorite thing to eat at Christmas? To many choices.

16. Color of lights on the tree? Clear

17. Favorite Christmas song? Silent Night.

18. Travel at Christmas or stay home? Both.

19. Can you name all of Santa's reindeer? Yes

20. Angel on the tree top or a star? Angel although I have a ribbon again :)

21. Open the presents Christmas Eve or morning? Both!

22. Most annoying thing about this time of the year? Shoppers!

23. Favorite ornament theme or color? Red, Gold, and Green.

24. Did you ever write Santa a letter? Of course!

25. What do you want for Christmas this year? Lose fat and gain money. But the opposite happens every time this year. :)
Edit:LOL...Lose not Loose



Posted By Mike on Mon-08-dec-2008 || Title: Boo Monday || (0) comments
We had a lot of freezing rain this morning. Lots of cars off the road. Anne and I waited 'till 8:15 for the bus to pick up the kids. We made it to work fine.

I learned it it smart not to fly with instruments older than 18 years old. If you are interested why, ask me in private.

The basement is mostly done now. I meant to take photos this morning to post, but was busy with other things. Anne and I are quite pleased with how it turned out.

We did a lot of Christmas decorating Sunday. We have the inside finished and hopefully, I will get the lights done outside tonight.

Warning:Funny stuff!

(1) I found this old 3GPP video (1.42M) of Aaron when he was a white belt in TaeKwanDo. Not the mean fighting machine he is now in Karate. :)

link

(2) Anne often lets the August and Paige "do her hair". This is often a very painful thing for Anne physically given the girls pull and bind her hair. I actually sneaked in a photo of this for the first time. Here it is. :)
Edited: Sorry photo removed, but I am going to put it up on my Flickr :P




Posted By Mike on Fri-05-dec-2008 || Title: stuff || (0) comments
Oddly today, I had 3 people ask me if I went hunting this year. Actually, one person asked on my facebook wall in Nov, but I did not notice 'till today. Sadly, I have not been deer hunting since '93 and I doubt I will ever hunt on Illinois public land. Maybe 09 will be different :)

The database system I have been programming took an interesting twist this week. Not anything ISU related, just home programming. I gave it the ability to spit out commercial and inventory bar codes in the reports. It made a nice learning experience concerning both types of systems.

We have had quite a bit of snow lately. Monday was the first time I went off the road since I was a teenager. luckily it was not a big deal. Given I have a Jeep Commander, I just pulled back on to the road :)

I think I'm going to post a couple of letters from August and Paige. The letter from Paige is the first letter she has ever written, and I was honored to receive it :) Just a simple letter about her loosing her tooth. I'll scan the letter. It is cute and funny. The second letter is from August concerning what she is thankful for. She of course did not write the letter itself, but dictated the letter to her teacher.



Posted By Mike on Thu-04-dec-2008 || Title: Mutt || (0) comments
Half American Bulldog, quarter Lab, quarter Collie....
Only weighs a few pounds....
But it sure can put away a lot of Turkey when it falls to the ground. :P

By the way, I forgot to mention, we have Sundays' Santa photos up on Anne's Flikr site.



Posted By Mike on Mon-17-nov-2008 || Title: Preview || (0) comments
Paige, Aaron, Maddie, and August.
Just wanted to share :)
The best one of just the kids.






Posted By Mike on Mon-17-nov-2008 || Title: Photo time || (0) comments
I just placed 24 family Christmas photos of the family on Anne's Flickr site. They could have been better, but there are a couple of good ones in there. Part of the problem was that Maddie refused to take a nap that morning or before the photos. Additionally, Paige lost her first tooth the day before. Well, OK, that might be a cute factor. Also, to add character to the photos, at lunch before the photos, Maddie whacked Paige in the face with a wooden spoon leaving a red knot on Paige's face (cheek).



Posted By Mike on Wed-05-nov-2008 || Title: American || (0) comments
Obama.




Posted By Mike on Tue-04-nov-2008 || Title: how they like 2 B seen || (0) comments
How they like to be seen




How Democrats show McCain:


How Republicans show Obama




Posted By Mike on Mon-03-nov-2008 || Title: costumes || (0) comments
Sorry to everyone that has patiently been waiting on the photos for October 30th and 31st. I have a good excuse for posting these so late. My memory reader has gone bad. I thought it was something with my laptop at home. I ended up barrowing a reader from work. So this post is just to say that the photos are up on Anne's flickr site. Starring: Aaron as 'Army Guy'. Maddie as 'Sock Monkey', Paige as 'Halloween Cat' and 'Witch', August as 'Halloween Cat' and 'Snow White'. Mike as 'JarJar Binks'. Anne as 'her scary self'. ;)




Posted By Mike on Thu-30-oct-2008 || Title: cool beans || (0) comments
Aramis Ramirez, my favorite Cub player, and second of all time (Andre Dawson), was selected to receive the Hank Aaron Award for the National League. Kevin Youkilis of the Boston Red Sox won the award for the American League. The Hank Aaron Award officially recognizes the most outstanding offensive performer in the American and National Leagues. This is the first time Ramirez has won the award. There was one nominee from each of the 30 big league teams. Sammy Sosa won the award in 1999. Hank Aaron, who is the only player in Major League history to amass more than 700 homers, 2,000 RBIs (2,297), 2,000 runs (2,174) and 3,000 hits (3,771), said the two award winners this year best exemplify the team traits that made him a great player. Neither Ramirez or Youkilis lead their respective leagues this year in home runs. Aaron led the NL four times. "These guys have demonstrated that they can play the game of baseball the way it's meant to be played," Aaron said about the two award winners. "The most home runs I ever hit in a season were 47 [in 1971]. And that was it. No more. And I just want to say, really, I offer my congratulations to the two of them. And believe me that it just takes teamwork, and I'm sure that things are going to work out fine for them."
Ramirez hit:
.289 avg.
160 hits :)
97 runs scored
career-high 44 doubles
27 home runs
club-high 111 RBIs :)
career-best .380 on-base percentage
.518 slugging percentage
I was personally hoping Ramirez could make the 30 home run mark this year so that he could have the perfect year (hits >= 150, RBIs >= 100, HRs >=30). This was the sixth season of 100 or more RBIs in Aramis Ramirez's career.



Posted By Mike on Thu-30-oct-2008 || Title: just 'things' || (0) comments
Just a few things. First, I have uploaded to new photos of the basement remodeling. You can find these on my Flickr

site . Secondly, I have uploaded some photos of the kids carving pumpkins. You can find these on Anne's Flickr

site. Aaron took all those pumpkin photos, with the exception of the photo of the three kids, so don't blame me :P. Thirdly, today is Halloween dress-up day for August and Paige at school. Paige also has her Halloween parade today. I will take photos when I go down to watch it. Paige's and August's costumes that they are wearing today are different than what they will be wearing for Halloween (I will make photos of that too).



Posted By Mike on Wed-29-oct-2008 || Title: Think + pray b 4 u vote || (0) comments
The Republican party has been, and continues to be, a party of profiteering. Profiteering of people's insecurities by the spreading fear and hate. Sarah Palin has lowered that bar of ethics in the republicans party even further with her latest comments. If you are voting for John McCain and Sarah Palin because you believe they are good Christians, don't. The God and Bible that I read does not wish us to behave this way. Truly look at the candidates and pray about it. Also look at your heart and your motivations. But please don`t be fooled. I am ashamed of what our politics have become. I have some recorded interviews with people in Ohio. Interviews with these voters on topics about McCain, Obama, and Palin and I find them very scary.



Posted By Mike on Fri-24-oct-2008 || Title: Basement || (0) comments
Contractors, Anne, and I have been working on the basement. The current status is that we have new walls, new doors, and a new ceiling. What was 2 rooms have become 3 rooms and a closet. The 'water works' area is now it`s own room and the house filter got it's own closet. I thought I would share with you some progress photos.
Here is a before photo of the ceiling.


and after


I have also put a few photos of the current state on my (not Anne's)

flickr (mikergibson) site.



Posted By Mike on Thu-23-oct-2008 || Title: Trains || (1 ) comments
Trains as a political metaphor.
Guess who am I voting for.




Posted By Mike on Tue-14-oct-2008 || Title: New, different, acoustic, + bluesy || (0) comments
Music is one of God's most interesting gifts that he gave us. Definitely one of my favorite :) Some people are more gifted at giving or receiving music than others. I found this new artist, who you will not find on the radio, featured on you-tube. She is gifted at writting, singing, and giving music. Here is

one of many songs. This is not even her best song, or even one of her many originals, just the last one I listened to before deciding posting about her. Yes, I am an ABBA fan too.



Posted By Mike on Mon-06-oct-2008 || Title: End of season || (0) comments
I only have two things to say about the Cubs right now:

1) :(

2) I blame no one but the general manager Jim Hendry right now. There are many, many player decisions that were made over the last 4 years, and especially this year, that I did not agree with. I still stand by my feelings on this and believe things should be different. I'm not saying the man did not make some good decisions, because he made many good ones. But the the decisions I have been most vocal about have been the most damaging. The only item that I feel anyone can argue with me with is Cedeno. Yes, Ronny Cedeno has finally become a valuable player and played well this entire year. But at what cost for the last two seasons?

Yes Jim Hendry has had enough brains to get the Cubs into the Playoffs 3 times since he took over 2002, yet dumb enough to put faith in people he never should have and give away people he never should have.




Posted By Mike on Fri-03-oct-2008 || Title: Proud Parent || (0) comments
I have been quite proud of my kids and what they are accomplishing in Karate. I have an over due photo of the kids in their uniform that was taken Sept 27th. The girls are still white belts but have improved a great deal. Aaron is now breaking thicker boards and has learned a great deal more under Master Smith.




Posted By Mike on Thu-22-sep-2008 || Title: Thanks || (0) comments
Anne, thank you for a wonderful anniversary gift :)


It was a great time. First, it was a great game. The mostly second string Cubs easily beat the first string Cardinals. I was a little disappointed that Lee and Ramirez was not playing, but they (like most) were getting some rest after winning the division the day before. Cedeno, Pie, and Fukudome had a great game though. Secondly, great food. Fine 5 star food for dinner and breakfast. Third, a great hotel. We stayed at the Talbott Hotel. I have stayed at a lot of hotels in Chicago and I would definitely recommend this one. But lastly, horrible traffic. :P There was a Cubs and Bears Game. But 3 out of 4 make more than a nice weekend.





Posted By Mike on Thu-04-sep-2008 || Title: Summer is over || (0) comments
This Tuesday August had her first day in Pre-K. So to celebrate, I put pictures of all 4 children put up on Anne's Flicker (Sep 2nd). My favorite part of August's class is MeatBall the turtle. :)...they also have this rabbit named floppy.

By the way, Anne asked me not to blog about the men's restroom... ;)




Posted By Mike on Thu-28-aug-2008 || Title: The coolest cake || (0) comments
Aaron has started Jr High. Paige has started the big K. August was one of the lucky few 3 year olds to start Heyworth's special pre-K (and all that that includes). You should see all the great photos on Anne's Flickr site ( http://flickr.com/photos/anne_gibson/ ). To celebrate, Anne ordered a cake from a lab tech she works with. We thought it would be a nice little cake but, nothing special. After all she only wanted $10 for it. What we got was a surprise.




A very detailed, very yummy chocolate/raspberry cake. More photos (marked public) are at http://flickr.com/photos/MikeRGibson



Posted By Mike on Fri-15-aug-2008 || Title: Just ugly cake || (1 ) comments
Here is the 'ugly cake' made in KY. Great tasteing though :)




Posted By Mike on Thu-14-aug-2008 || Title: El Bueno, El Feo, y El Malo || (0) comments
I can't believe I'm going to do another Good, Bad, and Ugly. I promise this will be the last for a while. It is just such an easy format to work with :)

Good.

1) Maddie's ability to type at the age the of four months!
2) Heyworth Illinois has good people in it.
3) The fact that two friends and one nice lady came to the aid of my mobster. Just so that he (no chin mike) can continue to live a life of crime without living it in a hospital ;)
4) Stone Temple Pilots made it to Bloomington/Normal (although I can't go to the concert).

Bad. My Bad list is kind of 'ranty'.

1) The fact I can't remember my number 1 bad item to post.
2) US is scolding Russia. At first I could not understand it. Russia is not acting any different than what the US would have done in the same situation. Georgia is plainly in the wrong. As some fathers out there would say, "Georgia made this bed they lie in". Russia is just taking control the situation, not trying to rule or over throw. Then I found out Georgia has a massive oil pipe network going through their country that the US is concerned about.
3) McDonald's Quarter Pounder with cheese. OH MY GOODNESS!!! Read the box! A true heart-attack and stroke packaged in cardboard box! Eating 2 of these a week could explain my occasional high blood pressure problem and intermittent weight gain. :)
4) Lies. Continued lies about Obama by Republicans... then spread through email. I'm not the biggest fan of Obama, but 'crumby', are there no longer any form of ethics anymore? I would like to think that the people that do this might feel ashamed, but I seriously doubt it. These people prey on people's fears to push what they wish to accomplish.
5) FUD. All the people that believe the lies in emails without even thinking to look to see if it is true!
good rule #1
If multiple people with good reputations will state something with their name attached to it in public media.... there is a good chance it might be true.
good rule #2
If you get information (like a forwarded email), and no one even know the original author, there is nothing verifiable, no facts or proof attached -- there is a good chance it is false.

People believe it because they fear it or they need validation of their fear. The email itself is called FUD (sometimes propaganda). FUD - Fear, Uncertainty, Doubt. FUD is what corporations and governments use to control our behavior.. It also alleviates the need to verify or think for ourselves. This has been a problem with people for many, many generations. If this problem did not naturally exist in humans, Hitler could never have gained control. Angry mobs could not be so easily established to harm others.
6) Nylon shoe laces. Expensive shoes with nylon shoe laces that will work themselves loose even if double knotted. :(

Ugly
A toss up :) You choose.




Posted By Mike on Tue-12-aug-2008 || Title: Il buono, il brutto, il cattivo || (3 ) comments
Wow, that was so much fun, I'm doing back to back 'good, bad, and ugly' posts! :) Just in case you don't know Italian, 'Il buono, il brutto, il cattivo' is Italian for 'The good, the bad, the ugly'

buono
1) Piers Anthony. I have read a few of his books before, but after reading the last two, I'm starting to become a fan.
2) FreeBASIC. A BASIC compiler that has some advanced features making it much better than your every day BASIC. Run on Windows, ReactOS, DOS, and Linux.
3) RocketBoom. A YouTube show that has been really good lately.

brutto
1) The fact that my 'friends' on myspace have decided to let my mobster die lonely, broke, and beat up.
2) The face book worm. It had to happen sooner or later.

cattivo
Now this is ugly, and no, it is not mine!




Posted By Mike on Mon-11-aug-2008 || Title: The good, bad, and ugly || (2 ) comments
It has been a while since I have done a good, bad, and ugly posts :)

Let's start with the

Good
1) Decatur and Bloomington's Martial Arts program at Smith Institute-Martial Arts. I'm continuously impressed.
2) Sushi at Hayashi Japanese Restaurant. Actually all their food is excellent.
3) Tendnet b/g/n wireless router. I purchased this Friday from ComputerDeli. It solved many of my problems. I have had 1 d-link and 2 linksys in the past. Not only is the router much better, it is much cheaper.
4) GDEW has advanced enough to make mention of :)
5) ReactOS has released 0.3.6. Yeah!

Bad
1) The price tag at Hayashi Japanese Restaurant. :(
2) The fact that with Flickr you can send your photos to Target but not Walmart :(
3) I'm continuously disappointed with Windows Vista and XP and their inability to handle anything that goes wrong. Yes, Vista is very, very crash-able.
4) Monday morning.

ugly
I could not think of anything ugly, so I give two more of these ;)


Yes, I had more things I wanted to post, but I can't think of them this Monday morning :P I guess if I think of them I'll have another post.



Posted By Mike on Fri-25-jul-2008 || Title: Children || (0) comments
A parent will spend 2 years working with their kids on walking and talking and 16 years trying to get them to shut up and sit down.

Here are my favorite 10 of the do's and do not's. I have another 20 of these to post yet. :)




Posted By Mike on Fri-18-jul-2008 || Title: Batman || (0) comments
With the release of probably the most successful Batman Movie ever, there is an interesting interview in

Scientific American with a professor of kinesiology and neuroscience (and a 26-year practitioner of Chito-Ryu karate-do). The question was, how much training would it take for a normal person to become Batman? The professor says: "You could train somebody to be a tremendous athlete and to have a significant martial arts background, and also to use some of the gear that he has, which requires a lot of physical prowess... In terms of the physical skills to be able to defend himself against all these opponents all the time, I would benchmark that at 10 to 12 years." The problem is, even after that amount of training, no one could remain on top of their game for more than a few years. And "Batman can't really afford to lose. Losing means death - or at least not being able to be Batman anymore."





Posted By Mike on Tue-15-jul-2008 || Title: Social networking sites || (0) comments
A while ago I put out 5 polls on Social network sites MySpace, Yahoo 360, Facebook, and Windows Live Space. Additionally I researched and explored what was happening with each of the four. Conclusions? First, I came to the conclusion that MySpace and Facebook have come out clear winners. Secondly, I surmised that Yahoo 360 once had a huge following that has now almost completely abandoned them. Lastly, Microsoft's attempt could not even catch a fraction of the users out there.

A few people did leave comments to me and only about the two of the more popular sites. Apparently most people use one or the other primarily. Here are a few opinions I don't necessarily agree with:

aitrus: face book is for emos and pedophiles

Amy: I prefer MySpace. Facebook has too many applications.

ChErRy: c) Facebook As it is very popular here, in Macau. Also, it has the function "friends suggestion". This is to suggest you to add the ones who you might know


After really looking, this is my opinion:

I find more people use Facebook, at least in my circles. Connecting to people was easier because so many people I know use it. Additionally Facebook makes it easier to find your friends. MySpace is more fun to use in some ways. MySpace is sorta what Yahoo 360 should have been. Yahoo 360 is no longer useful if people no longer use it. Lastly with Microsoft, I'm wondering why bother.



Posted By Mike on Mon-07-jul-2008 || Title: The Man Song || (0) comments
The music video:
on Youtube

Just the music and lyrics site:
http://humor.beecy.net/menwomen/mansong/

[Milt] Ladies and gentleman, The Man Song!
[female backup singers] He's the man. He's the man.
[Milt] I don't take no crap from anybody else... but you.
I wear the pants around here... when I'm finish with your laundry.
Cos I'm a guy you don't wanna fight... when I say "jump", you say "yeah right"
Cos I'm the man of this house... until you get home
[female backup singers] He's the man. He's the man.
What I say goes around here... right out the window
But I don't wanna hear a lot of whining... so I'll shut up
The sooner you learn who's boss around here... the sooner you can give me my orders, dear
Cos I'm head honcho around here... but it's all in my head
[female backup singers]He's the man. He's the man.
And I can have sex anytime... that you want
Cos I'm a man who has needs... but they're not that important
And don't expect any flowers from me... cos if I'm not mistaken, you prefer jewelry
I'm the king of my castle... when you're not around
[female backup singers]He's the man. He's the man.
And I'll drink and watch sports... whenever I wanna get in trouble
And I'll come home, when I'm good and ready... to sleep on the couch
Cos a man's gotta do what a man's gotta do... and I'm gonna do what you tell me to
Because I'm top dog around here... but I've been neutered




Posted By Mike on Sun-06-jul-2008 || Title: Why... || (0) comments
Pouring the cereal for the kids this morning got me thinking... How can Post call Grape-Nuts, Grape-Nuts? It contains absolutely no grapes or nuts. I asked out loud, "Is there any other cereal like that?" Aaron piped in and states, "well Rice Crispies don't contain rice and Fruit Loops don't contain fruit." I did correct him on both accounts, but I noticed most grain cereals, contain 0 or very, very little fiber. Why eat grain cereal if it does not have any fiber? So I mixed a little Grape-Nuts in Paige's Fruit Loops ;)



Posted By Mike on Tue-01-jul-2008 || Title: Aaron's triple threat || (1 ) comments
Tonsils, adenoids, and turbinec. He had the first two removed and the last one reduced. Otherwise known as tonsillectomy, adenoidectomy and turbinectomy. He is now home and doing good. I'm sure he will be sore for quite a few days. I uploaded 17 photos on Anne's flickr site of the experience.



Posted By Mike on Sun-29-jun-2008 || Title: oil || (0) comments
Do you wish to be depressed all the time? Now that oil broke $140 per barrel, try this great dashboard application from http://www.oil-price.net/ :

You can plug this into any website or your blog (if it allows JavaScript).

I just looked at MySpace and Microsoft Spaces; they do not have a built in oil price applicaton. :(

Facebook does though: http://www.facebook.com/apps/application.php?id=5888292661

So, I added it there too to remind me that it will cast me an arm the next time I fill up.
My Facebook badge:





Posted By Mike on Thu-26-jun-2008 || Title: More photos || (0) comments
I have just uploaded 5 more photos of the 4 kids on Anne's Flickr site. Two of them is Aaron, Paige, and August in their Gis. This month we put up a *TON* of photos... so I don't want to hear that we have not been sharing photos. ;) This is the first time we maxed out a Flickr account. In the month of June we uploaded 95 photos for a total of 100M on her site alone.



Posted By Mike on Tue-24-jun-2008 || Title: Social Networks || (1 ) comments
I enjoy using social networking on the internet. In fact, I belong to 4 mainstream website based social networks. Two of them I use often, and two I hardly use. So I'm curious, what, in your opinion, is the best social network web site?:

A) MySpace
B) Yahoo 360
C) Facebook
D) Windows Live Space


Why?:




Posted By Mike on Sun-22-jun-2008 || Title: Candidates || (0) comments
Do you want to know everybody that is running for Pres? Here are the Candidate's Websites:

Charles Baldwin (Constitution Party): http://baldwin2008.com/

Bob Barr (Libertarian Party): http://www.bobbarr2008.com/?gclid=CLKOoI-545MCFST7iAod0nstWA

John McCain (Republican Party): http://www.johnmccain.com/

Cynthia McKinney (Green Party): http://www.runcynthiarun.org/

Brian Moore (Socialist Party): http://www.votebrianmoore.com/

Ralph Nader (Independent): http://www.votenader.org/

Barack Obama (Democratic Party): http://www.barackobama.com/index.php

Gloria La Riva (Party for Socialism and Liberation):http://www.pslweb.org/site/PageServer http://www.votepsl.org



Posted By Mike on Sat-21-jun-2008 || Title: last weekend || (0) comments
It took me a while to post this. Earlier this week I put up more than 60 photos on Anne`s flickr site. Mostly from the 30th Superman fair, my birthday, and fathers day. Those that remember my post of the 28th Superman fair, we did not enjoy this one nearly as well. We probably only saw 15 'super heroes'. I may or may not post additional photos of some of the 'super heroes'.
Dad, Aaron, Anne, an I went shooting with a 22 rifle, 30-06 M1, and a 22 pistol. Aaron an Anne did quite well. I'm proud of Anne, despite my Dad working her up on how much kick a high powered riffle has, she got several bulls-eyes with the M1. I'm also proud of Aaron. This was the first time he had ever shot any gun. He even shot the M1. I probably should have taken a photo of Anne's target to post :)

On another note, I heard someone singing that Anne "can bring home the bacon, and fry it in the pan..... because she is a woman, naturally!"



Posted By Mike on Wed-11-jun-2008 || Title: Space Chicken!! || (1 ) comments



Posted By Mike on Tue-10-jun-2008 || Title: Windows ... Fail! || (1 ) comments
If the Star Trek Enterprise ran on Windows :)




Posted By Mike on Mon-09-jun-2008 || Title: Luddite || (0) comments
I found some definitions of Luddite:

1. One of a group of early 19th century English workmen destroying laborsaving machinery as a protest.

2. (broadly) A person who is opposed to all technological change.

3. A person who is averse to adapting to a technology.

4. A person who dislikes technology or technological devices that threaten existing jobs or interfere with personal privacy.

5. A person who distrusts or fears the inevitable changes brought about by new technology.

6. A person who is incompetent when using new technology.

The term came from a group of people involved in machine-wrecking riots in northern England 1811-16. The organizer of the Luddites was referred to as General Ludd (Ned Ludd). I had learned about the term in college and I have heard it used many times after, but I did not know the origins.

In politics, the newest term is now Luddism or Neo-Luddites.

Neo-Luddism is a modern movement of opposition to specific or general technological development. The term "neo-Luddite" is most often deployed by advocates of technology to describe persons or organizations that resist technological advances. Often thought as violent, like the well known neo-Luddite Theodore Kaczynski (the "Unabomber") and neo-luddite groups e.g Earth Liberation Front (ELF). But not always violent as President George W. Bush was labeled so when he enacted a ban on the expenditure of public funds on Embryonic stem cell research.




Posted By George on Sat-07-jun-2008 || Title: Revenge || (0) comments



Posted By Mike on Fri-06-jun-2008 || Title: whose fault? || (0) comments
I think Americans need to take a look at ourselves. We have become uncaring and callous people. Hartford, Connecticut. An elderly man (78) is purposely run down by a car. Everyone chooses to do nothing. The police chief says no one even called 911.
CNN article.

Actual city footage.

Maybe this is a knee-jerk reaction by me, but when our society has because this callous, I am thinking we have to admit we are going the wrong way.



Posted By Mike on Wed-04-jun-2008 || Title: Photos || (0) comments
I don't know if anyone noticed, but Anne and I have placed about 60 new photos on her flickr site in 3 days. We did not put any up last night because of the storms, but we plan on putting many more up still.

I have also created a flickr site and will be migrating my photos from my GibsonDigital site.



Posted By Mike on Wed-04-jun-2008 || Title: It is their fault || (0) comments
Here is how the world works:

If a man cuts his finger off while slicing salami at work, he blames the restaurant.

If you smoke three packs a day for 40 years and die of lung cancer, Your family blames the tobacco company.

If your neighbor crashes into a tree while driving home drunk, he blames the bartender.

If your children or grandchildren are brats without manners, you blame television.

If your friend is shot by a deranged madman, you blame the gun manufacturer.

If a crazed person breaks into the cockpit and tries to kill the pilot at 35,000 feet, and the passengers kill him instead, the mother of the crazed deceased blames the airline.

So, if I die while parked in front of my computer, I want all of you to blame Microsoft's Bill Gates and Steve Balmer! It would be more effective than blaming them for the things they actually have done wrong :)



Posted By Mike on Tue-03-jun-2008 || Title: Big 40! || (3 ) comments

H A P P Y - B I R T H D A Y
A N N E



Posted By Mike on Mon-02-jun-2008 || Title: Happy Anniversary || (1 ) comments
Happy Anniversary! It has been an exciting year will all types of action, challenges, laughter, and good times :) Even a new daughter. I look forward to our next year together. I love you very much.

A photo of us 1 year ago:


A photo of us 2 years ago:




Posted By Mike on Sun-01-jun-2008 || Title: The Kids || (0) comments
I'm letting everyone know I just posted 27 photos from May 2008 on Anne's flickr account of the kids.

Aaron, Paige, and August really enjoyed their first week of Karate. This week, I will probably start taking photos of them in class.

Tomorrow Anne and I will be married for one year! Hard to believe it went by so fast. I guess time flies when you are having fun. Anne says it is because we have four kids ;) And they are all so cute, especially Anne! No, I`m not saying Anne is one of the kids :D



Posted By Mike on Sun-25-may-2008 || Title: little more Maddie || (3 ) comments
I'm a little late sharing the Spring photo of the kids, so here it is below.

Yesterday we went to Chris` 40th birthday party. Happy Birthday Chris.

Also below is a photo of Maddie taken today of her all wrapped snug as a bug in the blanket that Aunt Liz made. Thanks Aunt Liz!

It is Labor Day weekend so today the Gibson Family had our favorite Godfather's Pizza - Taco Pizza!

I just found out that Derek is a new father, so I want to congratulate Derek and his wife on their new daughter. Also Christy and her husband on their new daughter.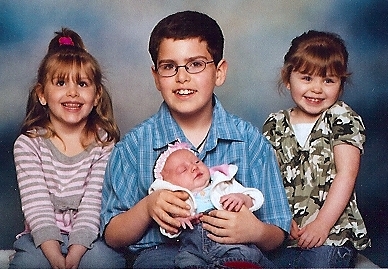 Posted By Mike on Fri-23-may-2008 || Title: Not more Maddie || (0) comments
I'm back from helping my parents move and quite busy at work. Below is a photo taken in Decatur of me hard at work. (That is my excuse for the period of time not posting)

Aaron has been switched from Tae kwan do to Karate and now Paige and August will be in Martial Arts also. Aaron will go three times a week, Paige twice, and August once. If Anne and I sign up, we can live there :) Since Anne will be driving the kids, I'm sure it will feel like it for her ;) (Anne is awesome tag here). I will have photos and movies made of course.

Thanks to Mom and Dad, I now have the mandatory (in my world) yuka - with some additional hasta to spread around. So I have started on the front yard, and hope to have it in order soon.



Posted By Mike on Sun-04-may-2008 || Title: weekend || (0) comments
Two years in the making and a lot of hard work, my back yard is 99% cleaned out and usable. All the thorn bushes finally gone. Many, many trees taken out. Poison Oak and poison ivy almost completely gone.

Took Maddison to church today. Now that she is out of the womb, the sounds don't bother her anymore. The most interesting fact I learned in church today was more Americans believe in prayer than in God. I find that weird.

Talking about wierd, we went to Walmart after church to get some baby formula. The formula was locked up in front of the store with the smokes. We asked why. The reason is that powdered baby formula is used for drug processing. Yep. I went home at looked it up and it is true.




Posted By Mike on Thu-01-may-2008 || Title: Happy May day || (5 ) comments
Happy May day. Maddie is now 3 weeks old. Before I know it, June will be here! :) Aaron, Paige, and August will be taking swimming lessons this summer. I will get this yard into shape. Anne and Maddie... not sure about their goals :)

I just purchased a new mower. A Craftsman 26 HP 54" deck mower. I did some research and it was the Consumer Reports 2007 'Best Buy'.
Better yet, because I purchased a 2007 model in 2008, I got the mower under $2000 (18 something). So for my collection, I Now have a Craftsman Gas powered weed eater, a Craftsman 6 HP 22" push mower (best I have ever had), and now a Craftsman riding mower. But what is a mower without attachments? I additionally purchased a pull-along yard sweeper for all those leaves that my 100 + trees drop. But with the money I saved, I could not stop there, I purchased a snow plow for my really long driveway. Note: This is my Anniversary, Fathers day, and Birthday gift all rolled into one. ;)

I'm still playing with Linux video. I can't tell you enough how great a video tool 'mencoder' is. Do you want to covert an AVI file that you have created to MPEG4/DIVX? Why? So you can burn the file directly to DVD or use more advanced video editing tools.


mencoder input.avi -o output.mp4 /
         -of lavf -ovc lavc /
         -lavcopts vcodec=mpeg4 /
         -lavfopts i_certify_that_my_video_stream_does_not_use_b_frames

I have to laugh at the option "I certify that my video stream does not use b frames" LOL :) What is great about using the mpeg4? You can create web friendly resolutions, DVD resolutions, or HD resolutions with it. So how about creating the really simple DVD from that?



mkdir DVD
dvdauthor -o DVD movie.mp4     
dvdauthor -T DVD
mkisofs -dvd-video -o DVD.iso DVD

Then burn the ISO. pretty darn simple. ;) Yes, making DVDs professionally on Mac OSX is much better. But I call this the quick and dirty "get-r-done" method. :)



Posted By Mike on Tue-29-apr-2008 || Title: Make slide movies with Linux || (0) comments
You can make great Slide movies for your DVDs using command line Linux. The commands you need are 'convert','cp', and 'mencoder'. For more advanced image tricks and stuff - also use Gimp.

To setup your Hi-Res photos run this command:

for name in `ls -1 *.JPG` ; do convert -resize 720 -quality 100% $name small$name;done

Each JPG will become a 1 second frame in a movie with this command:

mencoder "mf://small*.JPG" -mf fps=1 -ovc lavc -o ./dest.avi

You you use Gimp to merge photos and other tricks, you many want to increase your frames per second (fps), but this of course will increase the number of JPGs you will be working with. So you will need to copy some frames, edit other frames with text, and so on. Just thought I would share :)



Posted By Mike on Fri-25-apr-2008 || Title: More Maddie || (0) comments
I just put up 12 photos of Maddie on Anne's flickr.com site for those in the family group. I will have twice that many more up soon. They all have been tagged with Maddie and 2008. I will put the dates in the info.